Young Scientist Workshops on Chemical Engineering
A young sicentist workshops on Chemical Engineering will be held at the same time as the 2nd Dean Meeting (28 Nov 2007).
We are cordially invite you to participale in the workshop. The workshop will be essentially organized and managed by the participating students and young schientists. Any MS and DC students and schientists including postdocs from not only the member universities/institutions but also from any other universities over the Asia-Oceania region can attend the workshop to give oral or posters presentations. We believe that this workshop can afford good oppotunities to exchange information on the emerging polymer science and technologies and to make good friendships among the polymer scientists from all Asia-Oceania region.
If you are interested in this workshop, please send us an e-mail, and please visit this web-site occasionally.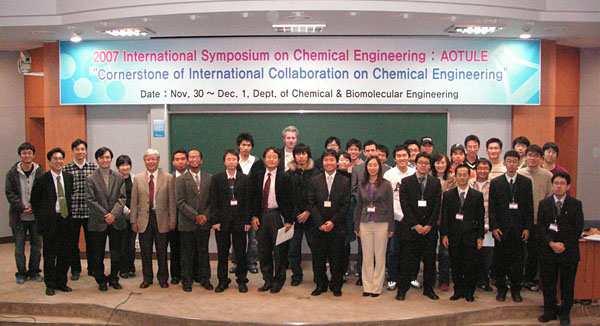 Schedule:
Nov. 28: arriving at Daejeon
Nov. 29: Technical session (Oral and poster presentations) & Banquet
Dec. 1: the 18th International Symposium on Chemical Engineering : Daejeon-Chungnam Area and Kyushu Area & Banquet
Dec. 2: Wrapping up and departure
Chairs:
Prof. Seung Bin Park (KAIST)

Prof. Masa-aki Kakimoto (Tokyo Tech)